Purchase and earn 45 K points
The McDermott G230 pool cue features a Birdseye Maple forearm and sleeve with a Pacific blue stain, a natural Birdseye handle, black, silver and white decorative rings and a G-Core shaft. McDermott pool cues are famous for their quality and reliability and they are proudly made in the U.S.A. Their lifetime warranty also includes cue warpage.
Purchase and earn 45 K points
• Birdseye Maple forearm and sleeve with a Pacific blue stain.
• Silver, black urethane & white urethane rings
• Natural Birdseye Maple Handle
• White urethane joint collar & butt plate.
• 3/8"-10 joint.
• Made in USA.
• Weight: 19 oz / 540 gr.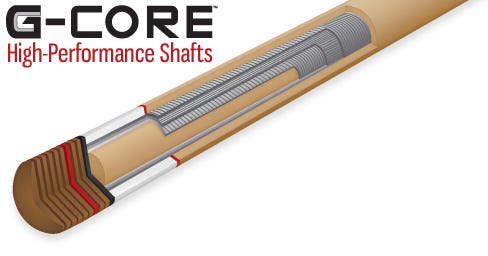 G-Core Shaft The G-Core shaft's internal carbon fiber is in the top 7 inches of the shaft. This technology strengthens the front-impact area of the shaft for more control and it reduces the inconsistencies that conventional Maple shafts have because of the grain of the wood.
Triple-Layer Design The G-Core shaft's triple-layer construction reduces vibration and minimizes the distortion of the shaft at impact. It increases the radial consistency of the shaft, which improves its accuracy and its stability.
CT Technology The G-Core shaft features McDermott's proprietary CT Technology: a carbon fiber tenon inside the front-end, that results in more accuracy and strength. This stronger ferrule assembly provides maximum impact strength and enhanced feedback. The red dampening plate that is at the base of the ferrule helps to reduce vibration upon impact and also enhances the feel.
Radial Consistency Radial consistency is the shaft's ability to perform the same way on every shot, no matter how you turn it into your hand. The carbon fiber core technology of the G-Core shaft makes it one of the most radially consistent shafts on the market. The G-Core will provide a straighter cue ball path more consistently, which reduces the need to compensate for deflection.
Everest Tip by Tiger Each Everest laminated cue tip is tested for consistency, hardness and checked for quality. It holds its shape well and gives you a very good control. Everest tips feature 10 layers, including a red warning layer to tell you when it is time to replace it.
Purchase and earn 45 K points
Specifications

| | |
| --- | --- |
| Manufacturer | McDermott |
| Warranty | Lifetime Warranty (Limited Including Warpage) |
| Cue Type | Pool Cue |
| Wrap Type | Exotic Wood Wrap |
| Cue Design | Stained Woods |
| Cue Joint | 3/8x10 |
| Shaft Taper | Pro |
| Shaft length | 29 inches |
| Tip Diameter | 13 mm |
| Cue Tip | Everest |
| Cue Extension | None |
| Joint Protectors | Not included |
More from this brand